29

Słubice: ul. Sienkiewicza 46


(formerly: Schützenstr. 46)

Erich Schulz (1907 - 1944) was a manual worker and from 1923 a known member of the Communist Party of Germany (KPD) in Frankfurt (Oder).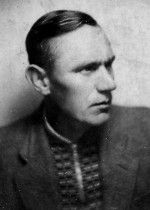 After 1933 he was involved in the development of the KPD's illegal work in Frankfurt and environs. In 1933 he was temporarily arrested. Between 1936 and 1941 he was imprisoned for preparing high treason, in Brandenburg-Görden jail, in a quarry in Bavaria and in the Aschendorfermoor camp in Emsland. After his release he was put under police supervision and had to report to the Gestapo every week.
On 29.06.1944, he was found drowned in the Oder. His wife had to identify him. In spite of his battered face, his death was officially described as suicide.