25

Karl-Marx-Str. 176 (formerly: Breite Str. 30)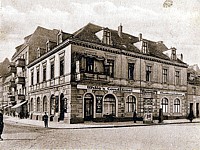 Doris Broh, née Schreiber, (1857 - 1943) lived with her son Alfred Broh (1888 - 1940). She was widowed and had six other children. Walter was a lawyer in Frankfurt (Oder); Arthur and Rose lived in Berlin; the three other daughters, Margarete, Frieda and Alice managed to emigrate to Palestine.
Dr. Walter Broh was killed in 1938 through a shot to the head. The businessman Alfred Broh died in Sachsenhausen Concentration Camp.
Doris Broh moved to her children in Berlin in 1940. In 1942 she was sent to Theresienstadt, where she died a year later. Arthur and Rosa were deported to Auschwitz three months later.
---
Edith Czerninski, née Grunert (1898 - ?) was married to Leo Czerninski (1894 - ?) and had a son called Werner. Edith Czerninski worked for the auctioneer Karl Michaelis, who also sold the confiscated possessions of Frankfurt Jews.
Leo Czerniski was a businessman and worked after his release from Sachsenhausen Concentration Camp in 1938 as a gardener at the Landwerk (agricultural institute) Neuendorf, which prepared Jews for the settlement of Palestine.
Leo and Edith Czerninski were deported to the Warsaw Ghetto in 1942.
---
25

Karl-Marx-Str. 177 (formerly: Richtstr. 21-22)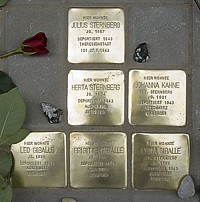 Julius Sternberg (1867 - 1943) was born in Lissa and lived with his three daughters, Herta Sternberg (1904 - 1943), Johanna Kahne, née Sternberg (1901 - 1943) and Lydia Giballe, née Sternberg (1899 - 1943).
Lydia Giballe was married to the businessman Leo Giballe (1896 - 1943). They had a daughter - Brigitte Giballe (1930 - 1943).
The Giballes lived in the Sternberg household before they all - with the exception of Johanna - moved to various accommodations in Berlin flats from late 1939. From March 1942, the Giballe and Sternberg families lived as five people in a two-room flat in Charlottenburg. Leo Giballe worked as a labourer, and was the only one employed.
On 12.01.1943, Herta Sternberg, her sisters Johanna Kahne and Lydia Giballe, with her husband Leo Giballe and their daughter Brigitte were deported to Auschwitz. Two days later Julius Steinberg was sent to Theresienstadt, where he died on 27.01.1943.